Winter 2019-2020
Nutrition Month celebrates every little bite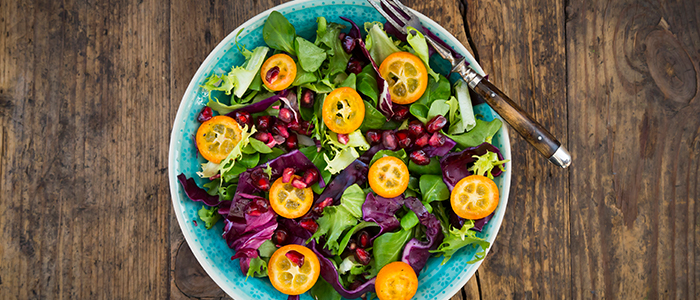 ;
When it comes to eating right, every little bit (or bite!) of nutrition is a step in the right direction. In March, National Nutrition Month® and the Academy of Nutrition and Dietetics is reminding people to Eat Right, Bite by Bite.
The month-long celebration shows how nutrition doesn't have to be overwhelming. In fact, making small goals and small dietary changes can have a lasting, positive effect on your overall health, says Moda Health's Supervisor of Wellness & Operations, Taylor Bruner.
"Many people think 'eating healthier' means you have to completely overhaul your diet, so they mistakenly change way too much over a short period of time. These types of big changes are often unsustainable when made all at once," she said.
"Better nutrition can be as simple as making one little change in your day. It's much easier to change a little bit here and there to create sustainable change over time. If we focus on small, incremental changes and goals, we end up reaching our goals more often. This keeps us on track over a longer period of time, and ultimately, we see more results."
With a Master's in Science Nutrition from the National University of Natural Medicine, Bruner's job is to lend her expertise to help others understand the connection between nutrition and health. She's always open to providing tips that help people make better food choices and eat better, such as:
It starts with awareness: Take some time to really understand your eating habits. Consider keeping a log of what you eat, using a food tracker or even noticing mindless snacking. Building awareness helps us understand our tendencies so we can ask ourselves, "Do I really want this?" when reaching for something that doesn't support our health goals.
Phase in little changes: List a few ways you could improve your diet, such as eating more leafy greens, adding more colors of fruits and vegetables to your diet, or drinking more water. Then, pick one to focus on for a month. Once you feel like it's become a normal part of your routine, work on adding in another.
Hold yourself accountable: It's easy to let yourself slide back into unhealthy habits. Consider using a tracker or calendar to see what your progress looks like and help you stay motivated. If you struggle to stay on track, consider finding a buddy to help you.
Be kind to yourself: Staying on track is important, but doing so to the point of stress can actually be counterproductive. Consider scheduling times to treat yourself to things you can look forward to. This helps you maintain balance and happiness.

Visit the Academy of Nutrition and Dietetics website to learn more about National Nutrition Month, the importance of making informed food choices and developing healthier eating habits.