Fall 2017
Trail Blazers' Rip City Relay promotes healthy living statewide
If you're a basketball fan but live far from Portland, it can be tough to make it to a Trail Blazers game. That's especially true in the fall, when we all recommit to work and school after a summer break.
The Trail Blazers are more than Portland's team, though. They're Oregon's team. So each September Moda and the Trail Blazers partner up for the Rip City Relay. This weeklong journey across Oregon lets fans experience the action that fills the Moda Center during the NBA season without leaving their hometowns.
Now in its fifth year, the relay kicks off Sept. 11 in Coos Bay, and then moves up the coast to Florence and Newport before heading inland to Dallas, with its last stop in McMinnville on Sept. 15.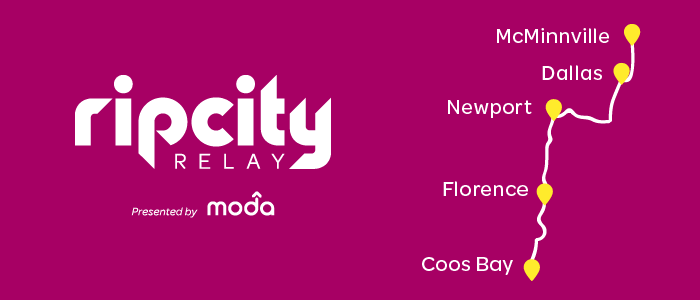 For Moda, the event delivers on our mission to help build healthier communities. Each stop features a day of high-energy events, including school assemblies and basketball clinics at sites chosen in collaboration with the Trail Blazers and the Oregon Education Association.
"Not only are we going around the state getting people excited about the upcoming season, but we're also educating families and kids about how they can get outside and lead healthy, active lifestyles," said Todd Bosma, the Trail Blazers' director of game operations and events.
Each day of the relay features a free community fair with family friendly games and activities, plus chances to win Trail Blazers gear and visit with team ambassadors including Blaze the Trail Cat and the BlazerDancers.
"When you think of a relay, you think of people running; you think of people being active and people being engaged," said Karis Stoudamire-Phillips, Moda's manager of corporate social responsibility. "That message of wellness runs throughout the entire program."
Want to join the relay?
Visit Trailblazers.com/ripcityrelay for news and updates. You can also follow the relay's progress on Twitter @RipCityRelay, or share your posts and photos with the hashtag #RipCityRelay.